IELTS Cash Back Offer
গ্রেকের শাখা থেকে আয়েল্টস পরীক্ষার জন্য রেজিস্ট্রেশনে পেতে পারেন ৫,০০০ টাকা পর্যন্ত ক্যাশব্যাক। রেজিস্ট্রেশন সংক্রান্ত যেকোন তথ্যের জন্য যোগাযোগ করুন- 01768 377 640 ~ 4 নাম্বারে।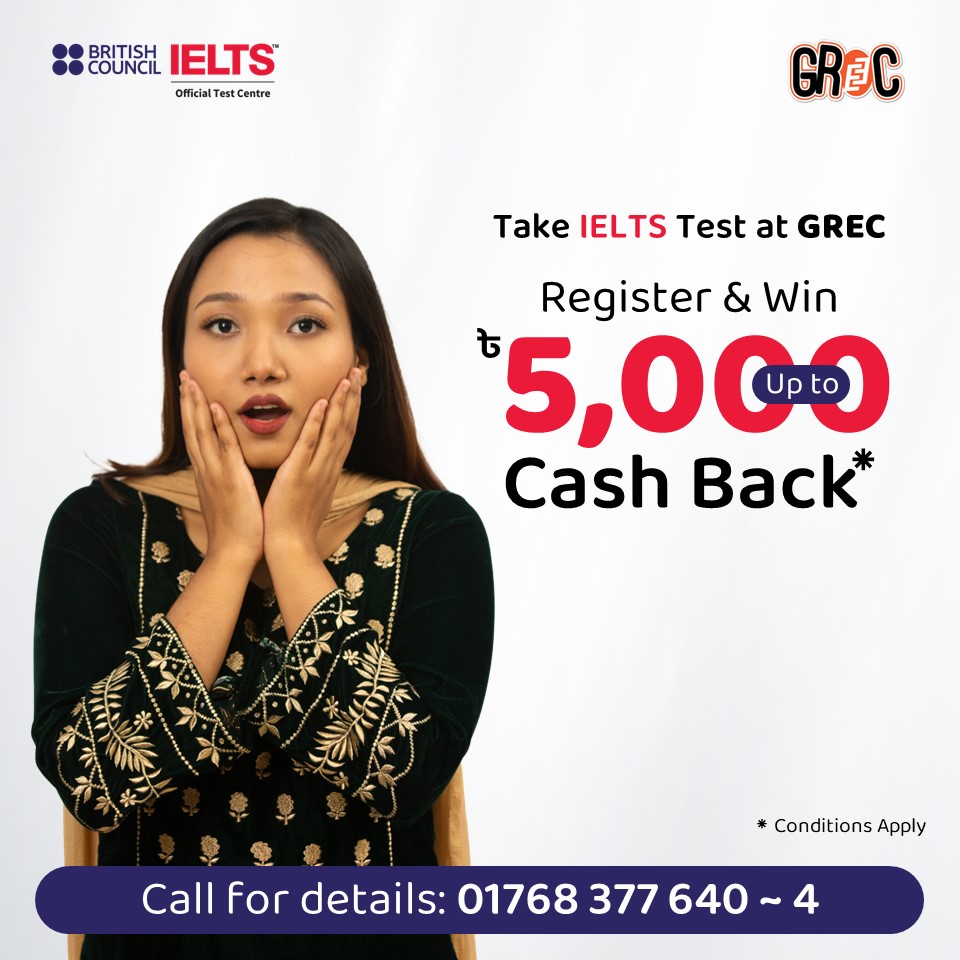 Terms & Conditions
This offer will remain valid from 17th Sep, 2022 to 27th Sep, 2022.
Applicable for a valid IELTS registrant.
Register for the IELTS test from any of GREC's branches.
Select GREC's official IELTS test venue (Tower Hamlet) as a test center.
Not changeable in any circumstances.
Non-monetary offers cannot be transformed into monetary ones under any circumstances.
Non-monetary offers have to be redeemed within a month of registration.
Test Cancellation: equivalent offer amount will be deducted from the refundable amount.
GREC BD shall not compel or persuade any person to participate in this campaign. Therefore, the person participating in this campaign with his/her full consent at their sole discretion.
GREC BD reserves the right to change/modify/extend these terms & conditions or cancel this offer at any time without giving any prior notice.
Any decision taken by GREC BD with respect to this offer, shall be in the sole discretion of GREC BD and shall be deemed final.
Read More – গ্রেকের জিআরই প্রিমিয়াম+ কোর্সে নতুন যা থাকছে